Livestock and Poultry
Livestock and Poultry Feeds
Nutrena Feeds, Purina Mill Feeds and Supplies for Poultry and Livestock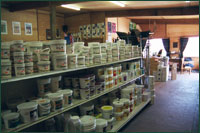 For your livestock and poultry, we carry feeds produced by industry leaders who have done extensive research into animal feed and development. Many of the feeds we carry are listed here, along with their nutritional analyses and ingredients.
Nutrena Feeds and Purina Mills Feeds

We purchase Nutrena feeds made by Cargill in its nearby mills, and take deliveries of shipments at least once or twice weekly. This frequent shipment schedule assures you that the feeds are always fresh.

The quality is guaranteed to exceed your satisfaction.
We carry Purina Mills feeds for lamb starters and poultry. Purina Mills has been an industry leader in livestock feed research for over a century. The quality is assured.
Feeds and Supplements for Poultry, Llamas, Goats, Cattle and Hogs
We carry feeds, supplements and supplies for:
If you need any help, or want answers to any questions about the products we carry, please feel free to contact us. We are only one phone call or one email away. Our friendly and knowledgeable staff is always ready and eager to help!