Stalls, Shelters and Panels
Horse Stalls, Corral Pens, Modular Shelter Systems
Stalls, Shelters and Panels for Horses and Livestock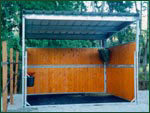 When you need stalls and shelters, come see us. We carry:
Round pens
Corral panels
Portable shelters
We work with a good number of manufacturers, and are continually adding new product lines.
Behlen Country Horse Stalls and Shelters
We stock and take special orders for stalls, shelters, and panels from Behlen Country, including:
We Do Local Deliveries and Take Special Orders
Local deliveries are available. We take special orders to be shipped to you or picked up at the store.
Please feel free to contact us if you have any questions about fences or fencing accessories, any special needs or requests. We are only one phone call or one email away. Our friendly and knowledgeable staff is always ready and eager to help!