Hay & Horse Feed
Hay, Straw, Nutrena Feeds, Purina Mills Feeds, and Horse Supplies
Hay and Straw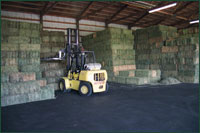 At Dayville we carry a variety of hay products to meet the needs of your livestock. We carry straw for bulk sale, great as construction straw or erosion straw.
Nutrena Feeds and Purina Mills Feeds


We purchase Nutrena feeds made by Cargill in its nearby mills, and take deliveries of shipments at least once or twice weekly. This frequent shipment schedule assures you that the feeds are always fresh. The quality is guaranteed to exceed your satisfaction.

Horse owners have relied on Purina Mills' equine feeds for over a century. We carry popular equine products to meet the feeding needs of different styles of horses, from pleasure to competitive, and the different stages in a horse's life.
Horse Supplies and Supplements
We carry a great selection of horse supplement brands that horse owners have come to trust. You can also find grooming supplies, wormers, vaccinations and other horse supplies at the store or by special order.
When you need answers to questions about feeds, please feel free to contact us. The Dayville staff has had personal experience owning, showing, and breeding horses. Our nutrition consultant can help you design a feed program that offers optimal nutrition for your livestock.